Oct 05,2021 by Scarlett Mitchell
Rose Flower Toy With Tongue
Rose Flower Toy With Tongue - If you enjoy oral sex or prefer external stimulation to penetration when it comes to toys, you will like this. In addition to looking cute, it mimics a mighty flickering tongue, brings thrill to all your body's erogenous zones.
Features:
1. Female rose toy, 1.5 hours for fully charged, the rose toy can provide 120 minutes of playtime.
2. With 10 powerful vibration modes, from mild to wild, the vibrating tongue teases your nipples and clitoris to evoke the most intense stimulation. Not only can you use it alone, but also as a foreplay prop between couples.
3. This is a continuously variable vibration massager. The strong impact force brings you unprecedented pleasure, and then you can find new wonderful pleasures and enjoy unprecedented pleasure.
4. It's 100% waterproof design ensures that it can be used in a bathtub or swimming pool, and you can enjoy it to your heart's content. It is an odorless, safe, quiet, and high-quality vibrator.
5. Its style is very exquisite, fashionable and mini, warm colors, exquisite and beautiful materials, and amazing hand feeling are all very beautiful. Its stylish and generous style will ensure that you can enjoy the pleasure brought by toys whether you are alone or sharing with lovers of real indoor and outdoor companions.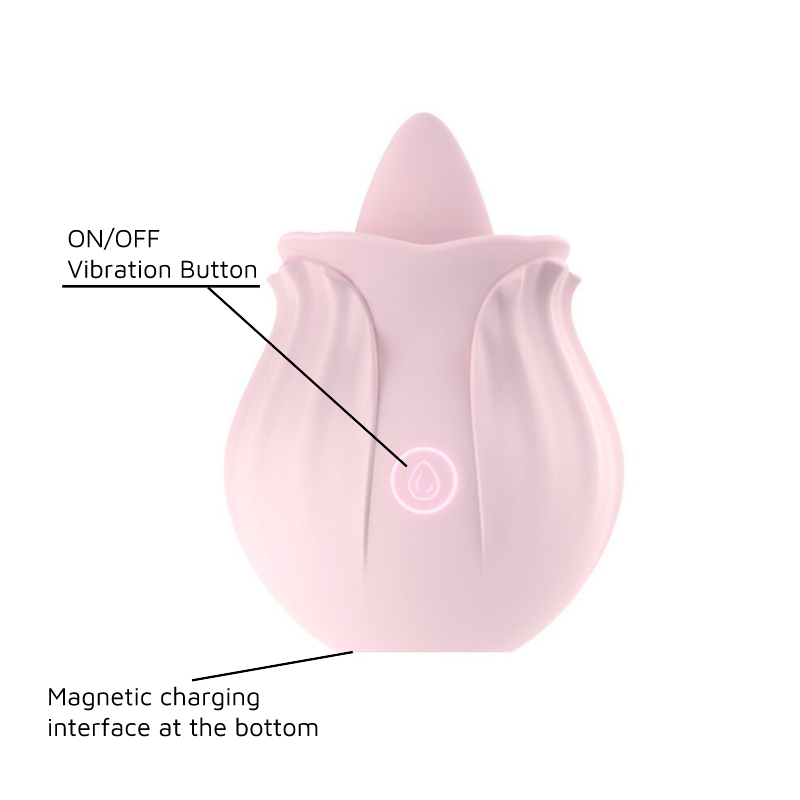 How to use it:
Long press the power button for 2 seconds to turn it on.
Short press the power button to change the licking vibration modes. There are 10 different licking vibration modes.
Long press the power button for 2 seconds to turn it off.
Note: In order to improve the comfortable use of this rose toy, we recommend that you use lubricant with the rose toy. We also suggest that do not use a silicone-based lubricant as it could make the rose toy permanently damaged. A water-based lubricant is always the safest option.
Charging Instructions:
Make sure to connect the two charging points of the bottom of the vibrator with the charging base's two points completely.
Plug the USB connector of the power cable into the USB port.
DO NOT use the rose toy while charging.
The indicator light on the ON/OFF button flashes slowly while charging. The indicator light remains lit after being fully charged.
The charging time is about 75 minutes. Please remember to cut off the power after charging fully.
Cleaning & Storage
The lifespan of the rose toy will be greatly increased with proper maintenance and care.
Please always clean the rose toy before and after each use. Wash the silicone part with water and anti-bacterial soap, rinse with clean water and pat it dry with a lint-free towel. Do not use detergent containing alcohol, petrol, or acetone.
Store the rose toy in a dust-free place. Avoid direct sunlight and do not expose it to extreme heat.
Follow us on Instagram, Twitter, Facebook, and YouTube