Mar 24,2022 by Scarlett Mitchell
Tongue & Bead 2 in 1 High-Frequency Rose Clitoral Vibrator
The Tongue & Bead 2 in 1 High-Frequency Rose Clitoral Vibrator is made of high-quality materials, powerful vibration for your clitoris, vaginal, nipples, and other sensitive parts stimulation, will definitely surprise you. And the use of curved design, in order to accurately hit your G spot.
Features:
Licking and vibration, double pleasure.
The silica Gel material is soft, comfortable, and odorless.
Beautiful flower shape, strong privacy.
Low noise, enjoy quiet and soft feelings
Precision motor, more powerful.
USB rechargeable, charging is available at any time.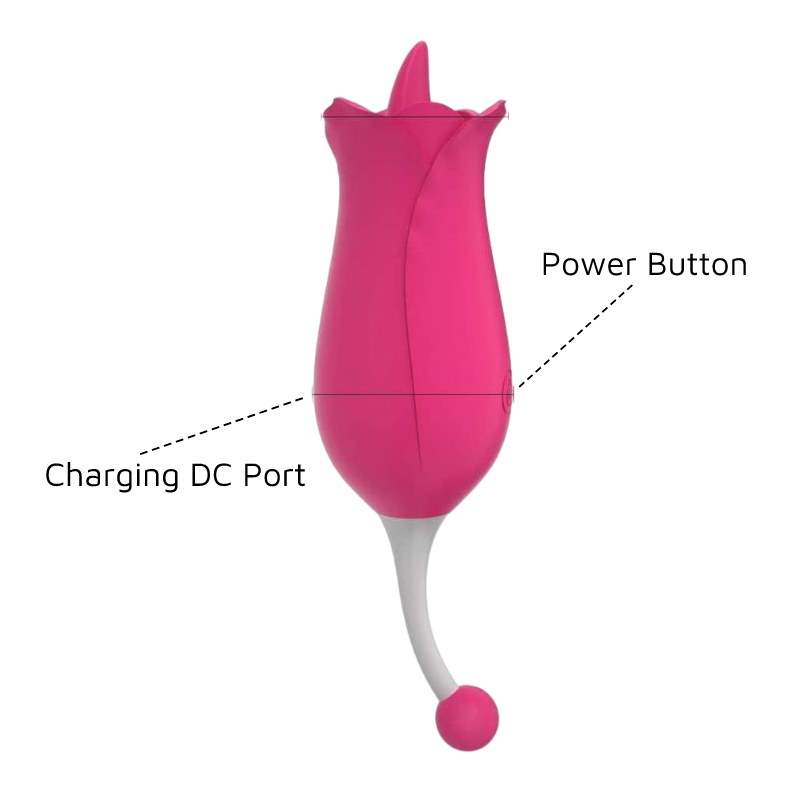 Charging method:
Take out the product and insert the pin plug of the cable into the DC charging port of the product;
Connect the USB interface of the cable to the USB charging plug with voltage 5V and current 1-2A;
The indicator light on the power button flashes slowly when charging;
The charging time is about 70 minutes. The indicator light will remain lit after being fully charged. The product can be used for about 75 minutes after being fully charged.
Notes:
For the first operation, it must be fully charged before use.
Please select and use a USB charging plug of national standard with a voltage of 5-5.5V and a current of 1-1.2A for charging.
Do not operate any function button while charging. Do not touch the water.
Operation method:
Take out the product, refer to the figure, and put the soft silicone ball on the bottom of the product(proper force can be used during the insertion process);
Press and hold the power button for 2 seconds, the product will start up with a flash and enter the static standby mode;
In the startup state, press the product power button briefly, and the product will enter the first licking mode, the product can be switched to different licking modes by pressing the power button again, there are 10 different licking modes in the product.
In the state of licking, double-press the power button, the tongue stops licking, and the soft silicone ball at the bottom of the product starts to vibrate. At this time, short press the power button to switch to different vibration modes;
After use, press the power button for 2 seconds, and the product has been shut down.
Please use warm water with mild soap (or toy cleaner) to clean the product and dry it. Store it in a cool and dry place.
Follow us on Instagram, Twitter, Facebook, and YouTube