Jan 29,2022 by Scarlett Mitchell
3in1 Rose Toy with Bullet Vibrator
3in1 Rose Toy with Bullet Vibrator - launched in 2022, a new rose toy with bullet vibrator, combining the 3 functions: tongue licking, thrusting, and vibration. functions.
Features:
1. Clitoral Tongue Licking Vibrator - Orgasm in 30 seconds】 Send her this rose toy and start your journey to endless pleasure and multiple orgasms. The rose petals are designed as a powerful licking tongue for nipple and g spot stimulation. Use the rose toy tongue licking and thrusting vibration function together to upgrade your game. Use it on the neck, back, vaginal, nipples, G spot, anal, prostate, or other erogenous zones.
2. 3 IN 1 ROSE TOY WITH 18 MODES FOR WOMEN PLEASURE: This rose toy is a 3 in 1 tongue licking toy + thrusting + vibrator. The rose toy vibrator comes with 9-speed tongue licking modes and 9 thrusting vibration frequencies. Use the tongue-licking vibrator solo or with your partner. Your sex life will be mixed with extra fun and passion. The tongue-licking vibrato will make you feel like you are receiving the best oral sex you've ever had!
3. Body-Safe Adult Sex Toy: The rose toy vibrator is made of body-safe silicone. The rose toy vibrator for women has a beautiful look and smooth surface. The touch feels like silk when it's on your skin. The rose toy vibrator is waterproof and makes it a perfect bath time company. Clean it under flowing water but do not soak it in the water. Clean the rose toy vibrator before and after use. Enjoy your amazing experience with this adult sex toy.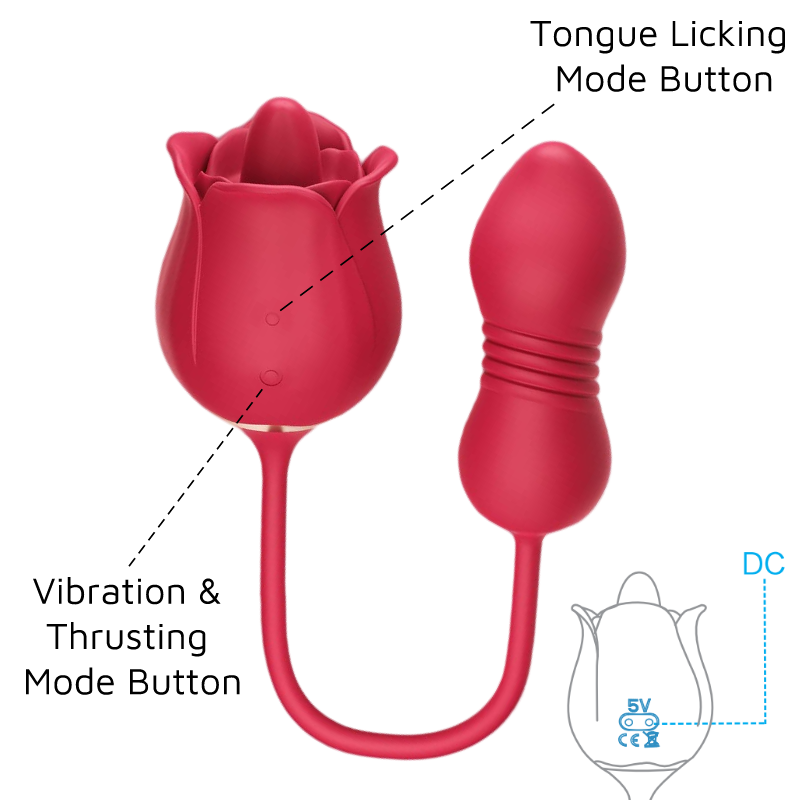 How to use it:
Tongue Licking Mode Button: Hold on the button for 3 seconds to turn on/off the mode. Short press to switch the tongue licking mode.
Vibration & Thrusting Mode Button: Hold on the button for 3 seconds to turn on/off the mode. Short press to switch the vibration and thrusting mode.
USB MAGNETIC CHARGING
*WARNING: Please DO NOT use an adaptor with ">5V" output.
Please make sure your toy is fully charged the first time.
CLEANING
Clean Please clean the rose toy with warm water or antibacterial soap.
Wipe dry the rose toy with a clean cloth or towels.
Save Keep the rose toy in a cool, dry, and clean place.
Attention Never cleans this rose toy with an organic cleaner that contains alcohol, gasoline, or acetone.
Avoid direct sunshine.
SAFETY
Do not use it at a temperature over 167 F/75 "C.
Stop using it when any discomfort occurs.
It is recommended to use it with water-based lubricant.
Do not use it if you find the rose toy unsmooth or damaged.
Keep out of reach of children.